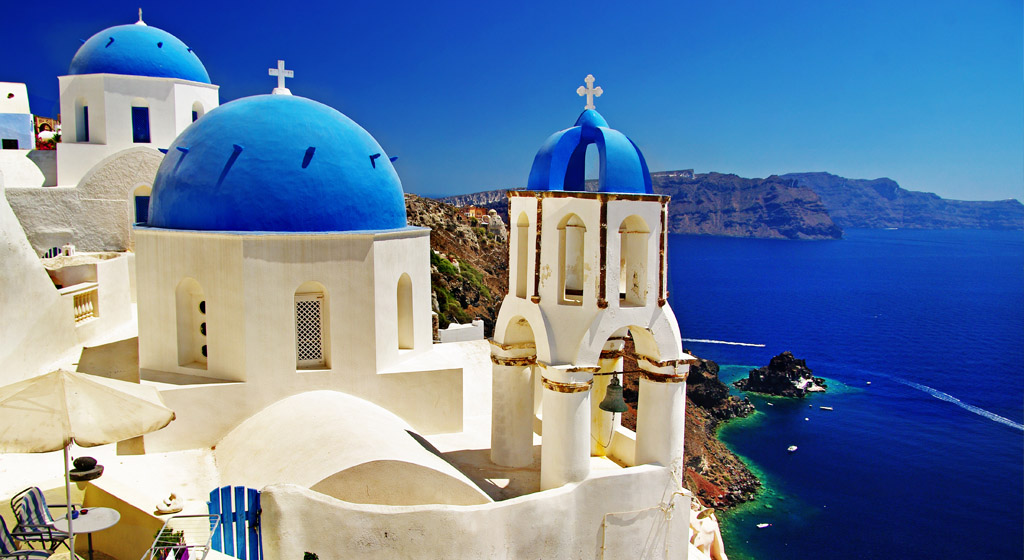 Top-Rated Tourist Attractions in Greece
Greece – The Birthplace of democracy and Western Civilization is well known for its natural beauty, blue waters, fascinating Island and charming history.  Greece is one of the most popular tourist destinations in the world.  There is a lot to see in this thousands years old civilization – Incredible Ancient archaeological sites, amazing islands, sandy beaches, and a warm Mediterranean climate. A picturesque country that has stood amidst towering mountains and idyllic beaches for over four millennia, Greece is one of the most popular holiday destinations in Europe
Paradise Beach. Parthenon. Temple of Poseidon. Delphi. Meteora. Santorini Volcano. Acropolis are some of the most popular Tourist places in Greece.
Here are the top tourist attractions in Greece that you should never miss while visiting Greece.
Acropolis
Athens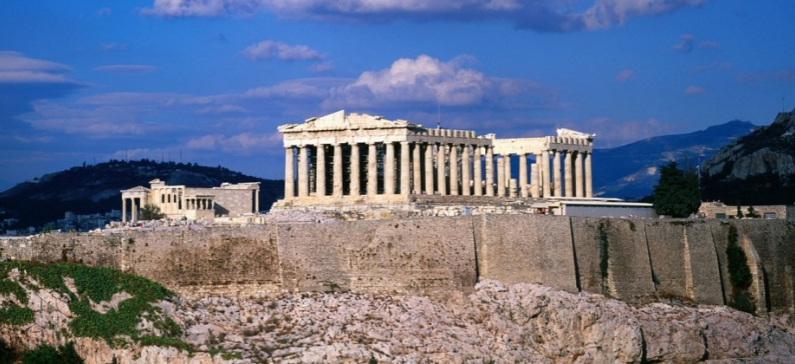 Synonymous with Greece, the mesmerizing Acropolis is an amazing building near the capital Athens. Built on top of a mound, it is an archaeological wonder, a UNESCO World Heritage site, and one of the world's most instantly recognizable landmarks.   Many Athens landmarks have survived to this day, and the most famous of them, without a doubt, is the Acropolis. The Acropolis of Athens is rich with history and full of physical reminders of the greatness of the Greek empire. Although there are several buildings and monuments in the Acropolis, the most recognizable is the Parthenon, which was a temple built for the goddess Athena. A two-and-a-half-kilometer walkway known as Archaeological Promenade skirts around the Acropolis.
How to get there – The easiest route is to take the metro to Thission, get out of the station, walk to your right and follow the people to the entrance.
Acropolis of Athens is open daily. Summer 08:00-19:00, until 15:00 Su and national holidays. Winter 08:00-sunset. +30 210 3214172
Go early in morning to avoid heat and crowds or late in afternoon.
Parthenon
The Parthenon is one of the most famous Greece tourist attractions and is part of Acropolis. Dedicated to the Greek goddess Athena Parthenos, it is an absolute must see. The  Parthenon  is a very old building, its construction having started in 447 !!  It is the biggest temple of classic antiquity with 8 x 17 pillars. It has been used as a  temple, fortress, a church, and even a mosque.
The best time to go up there is the late winter or spring.
Best to go at sunset, when the Pentelic marble gleams like strawberries and cream, then wait to see the floodlights bathe it in golden
Meteora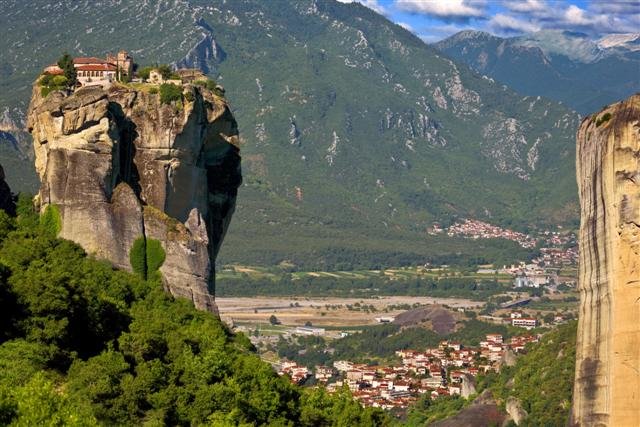 This jaw dropping monastery was featured in famous James movie "For Your eyes Only". Literally meaning suspended in the air – it is actually a collection of six monasteries situated on top of several rock pillars.  Founded in 14th century, Meteora is described as Serene, spiritual, magical, mystical, extraordinary, breathtaking, immense, inspiring, impressive. Situated in central Greece, it is a proof that faith can move mountains. Monasteries on rock pillars, once accessible only by frayed ropes
The easiest way to get to Meteora from Athens is via train.  You can find detailed instruction on How to get to Meteora from Here
Santorini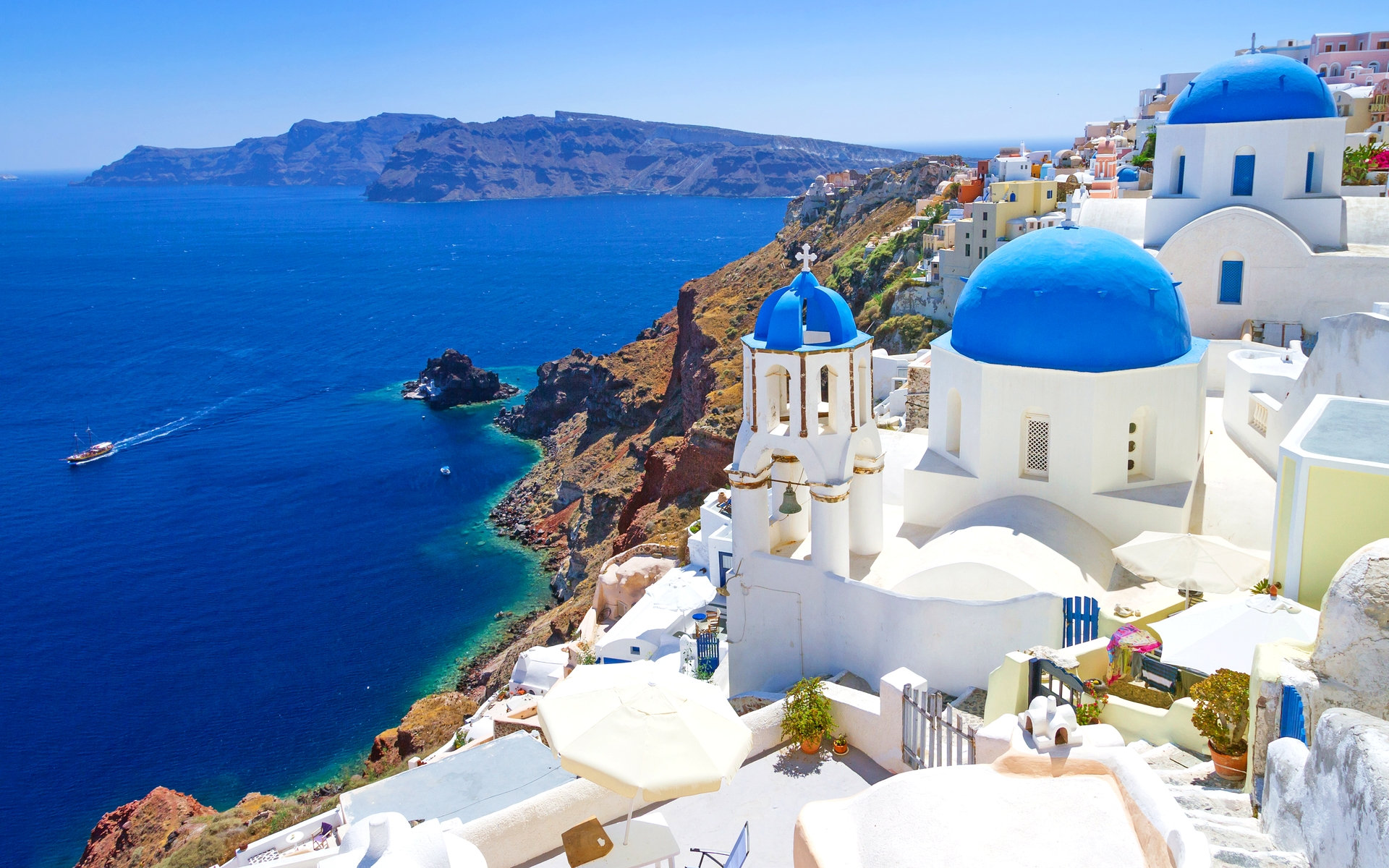 Santorini is a small volcanic island that has become world famous due to its scenic views, nice Mediterranean climate and charming lifestyle. Tourists come here from al over the world to enjoy its dramatic views, stunning sunsets, the white-washed houses, and an active volcano. You will love its white cobblestone streets full of old fashioned shops, cafes and hotels.
Delphi Theatre
flickr/Josh Clark
Another amazing ancient monument is the Delphi Theatre which was built in 4th century. In its heyday it was the most important site in ancient Greek religion. There are speculator views of the entire sanctuary and the landscape from top of the theater. The structure is built to seat 5000 spectators and remains one of the top tourist attractions in Greece.
Delphi the site is quite a distance from other ancient sites. If you're staying in Athens you can get to Delphi by booking a coach tour. It's best to get information from your hotel or local travel agent.
 Samaria Gorge is another very popular tourist attraction for locals