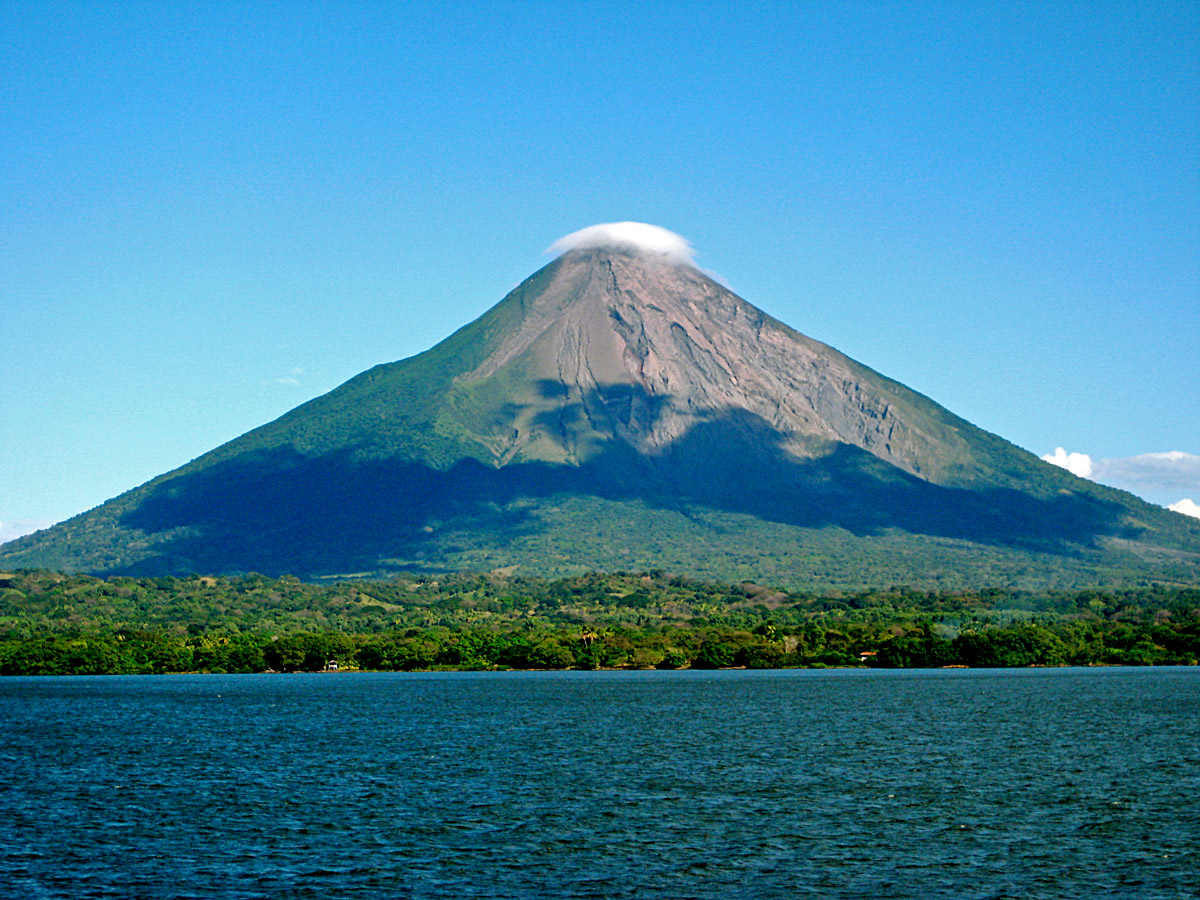 Top-Rated Tourist Attractions in Nicaragua
Nicaragua is the new hot destination spot for families, retirees, and backpackers. Filled with amazing natural beauty and extremely warm people, it is slowly emerging on radar of travelers seeking cheap and adventurous destination, an alternative to "touristy" Costa Rica. Blessed with lakes and volcanoes. this interesting, and beautiful country in Central America still has a long way to go to become prime tourist destination and as a result is quite cheap. Go there while you can still enjoy rock-bottom prices! Not only is the country very inexpensive to travel, there are also a lot of great things to do in Nicaragua such as beaches, volcanoes, jungles, mountains and lakes. Nicaragua beaches are gorgeous and lakes have a magnetic beauty. There is also a vibrant history and diverse ethnic population. November to April is best season to go as it is very dry and warm. Most places in country enjoy dry, sunny days and mild temperatures making it quite enjoyable time of the year.
Money
1 US Dollar = 26.11 Nicaraguan Cordoba Oro. Money exchange is available in banks, exchange houses, hotels and street vendors (not recommended). Dollars are readily accepted anywhere except in the countryside. The airport tax is $20.00 and sales tax is 15%.
Entry Requirements
U.S. Citizens are required to have a passport valid for at least six months after entering the country. A Tourist Card (US$ 5.00) must be purchased upon arrival.
Government
Nicaragua is independent, free, sovereign, Unitarian and indivisible. It is a democratic, representative republic. Managua is the nation's capital and the seat of the Government.
Language
Spanish is the official language. On the Atlantic Coast, the indigenous population speaks English and Miskito.
What to see in Nicaragua
Masaya Volcano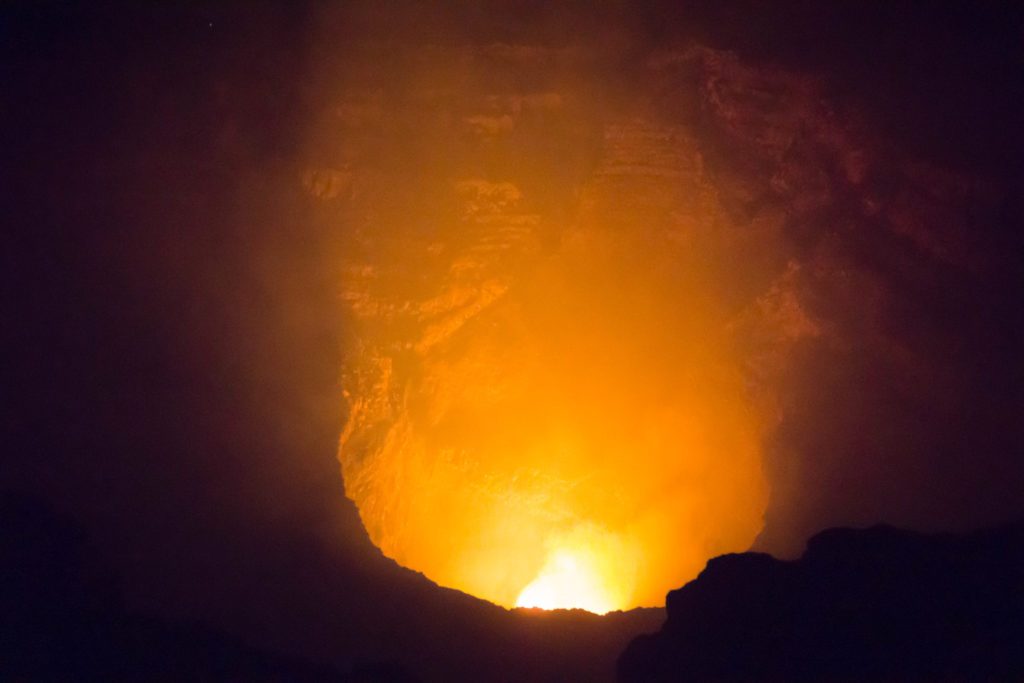 See lava bubble and glow at Masaya
This fantastic, active volcano is just outside Grenada city. A rare volcano where one can drive to the very top, staring into the eye of a bubbling orange lava pit is an experience that can only be felt, not described in words. Peering through sulphurous clouds at the molten lava lake at the centre of the Santiago crater on the top of the Masaya volcano is one of those once-in-a-lifetime experiences. At Masaya, you can peer into the volcano from a safe distance, though only for 10 minutes maximum because of the noxious fumes.Even more amazing, you can drive right up and park by the lip of the crater, although cars do have to be facing downhill in case of an emergency evacuation from this active volcano. It's easily to visit from Managua or Granada; come in the day to learn all you can about the volcano at the onsite museum and take in the full extent of the crater and surrounding lava fields, or come at night for a brief but thrilling peek of the bubbling lava lake and the golden glow it casts in the crater. A trip to Masaya is easily arranged from the capital Managua, which now has a number of new attractions to tempt travellers to stay a few days.
Parque Nacional Volcán Masaya, Nicaragua
Isla Ometepe
Everything about Ometepe is special. Reached by ferry from the port of San Jorge, this large island in Lago Cocibolca (Lake Nicaragua) is graced with two mighty volcanoes: the active Concepción Volcano in the north and the not-so-active Maderas in the south. Both volcanoes can be climbed, and Maderas has a crater lake at its summit, and at its base the San Ramón waterfall that cascades 50 metres (164 feet) down a sheer wall. Non-hikers can take it easy and swim in the fresh waters of the lake and relax on the white sands of Playa Santo Domingo. For adventure try horse riding or mountain biking, or kayak along the Rio Istián, a top spot for birdwatching. Head for Punta Jesús María as the sun starts to set; a finger of black sand leading into the lake points directly at the last glorious glow of the orange orb as it disappears below the horizon.
Isla Ometepe, Lago Cocibolca (Lake Nicaragua)
Granada: A Colonial Gem
Managua: the Capital City
Managua, Nicaragua's Capital, is the bustling core of the country, where nearly all industry and commerce is located. It is by far, the country's largest city and is currently working towards being a major cultural and educational site for travelers. Managua has beautiful promenades along the Lake Managua, a gorgeous way to explore the city.
Ometepe Island
Ometepe Island is made up of two active volcanoes blanketed in the lush tropical forest in the middle of Lake Nicaragua. The island is said to have been inhabited since 2000-2500 B.C. and there are still many remnants of natives. Canoe through lagoons and rivers, horseback through the untouched countryside, bicycle to beautiful white sand beaches, or take a bus from village to village. There is no place like it in the world.
Golden Gate Bridge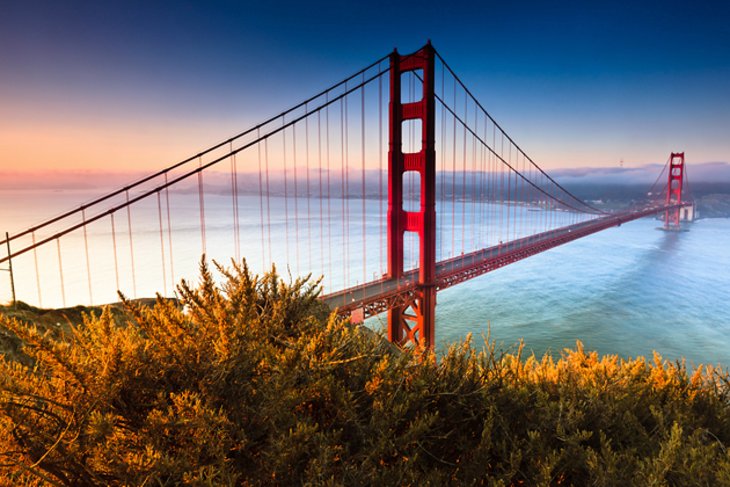 The Golden Gate Bridge is a California icon gracing San Francisco Bay. It is the most photographed site in the city, with the orange structure backed by blue water, or in many cases, peaking through low lying cloud. At night, the flood-lit structure is equally striking.
Connecting San Francisco with Marin County and other districts further north, the Golden Gate Bridge was, at one time, designated the greatest man-made sight in the United States by the U.S. Travel Service. Opened on May 28th, 1937, the bridge took four years to build and at the time of its completion, was the longest suspension bridge in the world, measuring approximately two miles in length.
If you want to drive over the Golden Gate Bridge, the road is US Hwy 101, or SR 1, and walkways on either side of the bridge are open to pedestrians and cyclists. The walk begins at the start of the bridge (accessible from the Presidio shuttle) and ends with a viewpoint in Marin County. Many locals enjoy biking across the bridge to the nearby waterfront town of Sausalito. Pedestrian access is on the East Sidewalk; bicycle access is on the East and West Sidewalks. The bridge is only open to pedestrians and cyclists during daylight hours.
For a great view of the bridge, or for anyone interested in photographing the bridge, there are a number of ideal vantage points. From the San Francisco side, Nob Hill, an area known for its posh old mansions, offers some beautiful views over the bridge. On the opposite side of the bridge, in Marin County, Golden Gate National Recreation Area is another good spot. Also, if you are planning on taking a tour to Alcatraz, there are completely open views from the boat and island.
Visit the Grand Palace and Wat Po – The palace was built over the course of three years at the end of the 18th century by King Rama I and is the official residence of the current monarch (though he doesn't live there anymore, it is just used for ceremonies). This is also where you will see the temple of Wat Pra Kaeo which house the 15th century Emerald Buddha whose robes are rotated three times a year by no less than Thailand's king himself. Moreover, you'll find Wat Po to have the famous golden reclining Buddha statue. It costs 500 THB to enter the Grand Palace and 100 THB to enter Wat Po.
Take in the view from Wat Arun – Meaning Temple of Dawn, this is a gorgeous Buddhist temple on the edge of the Chao Phraya River opposite the Grand Palace. It has one main spire and four small ones and is so iconic you'll find it on Thai money. From the top of the main spire, you get to see stunning sweeping views of the city, making for amazing photographs during sunrise and sunset. The stairs are steep, so be careful. It's open every day and only costs 50 THB to enter.
Explore Lumpini Park – Outdoor enthusiasts will find it hard to tear themselves away from Bangkok's Lumpini Park. Jogging paths, bicycle roads, picnic, and chess tables, Tai Chi classes, plenty of trees, weight-lifting, and rowboats for rent on its pair of lakes offer plenty to do and all the time in the world to do it.
The Royal Elephant Museum – Elephants have long played a significant role in the lives of the Thai people. The museum is located within the parliament compound and is a visual testament to the value of the largest land animal and to the beliefs surrounding its participation in religious ceremonies. The museum is open to the public every day from 9:30am to 4pm and is free with a ticket to the Grand Palace (or 100 THB when purchased separately).
Visit the Chatuchak Weekend Market – The weekend market is an ideal place to buy anything and everything. This football-stadium-sized marketplace offers the best place to get gifts, find knock-offs, barter, or have some good food. Definitely come here on a Saturday or Sunday to shop around!
Temple hop – Bangkok is full of history, temples, and Thai ruins. There are about 10 main temples in the city, and you can easily just hire a guy to take you to all of them in one day. They all have different architectural structures and layouts. It will take about five hours to see them all. If you don't have that much time, aside from the Grand Palace and Wat Po, make sure you check out Wat Arun, The Temple of the Dawn.
Hang out on Khao San Road – Khao San Road is the infamous backpacker/tourist street in Bangkok. All travel roads lead in and out of here. However, it is more than just a transit hub for travelers. Here, you can find nightlife, great food, great shopping stalls, tons of people watching, and activity all day and all night. Here's a video:
Visit the Floating Market – The floating market is just outside of Bangkok, and while mostly for tourists, I like visiting. The tours that come here are about half a day and leave early in the morning. It's not a great place to shop but the area is good for photography and eating, two things I love a lot.
Shop 'til you drop – Bangkok has so many malls that in the center alone, I can count 12 in a four-block radius. Bangkok has everything you could ever need and at great prices. Make sure you check out Siam Paragon (for designer clothes), Terminal 21 (to see the stunning internationally-themed decor), Platinum (for cheap, trendy clothes), Pantip (for cheap electronics), and MBK (for cheap knockoffs).
See Jim Thompson's House – Jim Thompson was a former American spy and silk merchant in Thailand during the 1950s and 1960s. He built his traditionally Thai home in Bangkok and decorated it with beautiful teak wood furniture and a surrounding garden. He vanished mysteriously in 1967 while in Malaysia. His house is now a monument to traditional Thai architecture.  Proceeds from the 150 THB (100 THB for students) entrance fee go to help orphaned children.
Visit the Temple of the Golden Mount – Only about 1km away from Khao San Road, The Temple of the Golden Mount features an enormous chedi (a mound-like structure containing Buddhist relics). This is one of my favorite temples in the city because of its exquisite golden temple, stunning setting, and wonderful views of the city from the top. Entry is free.
Take a day trip to Ayutthaya – Close to Bangkok, you'll find the old capital, which is home to the summer palace, tons of breathtakingly unique temples. In 1991, it became a UNESCO World Heritage Site. Since it is so close to Bangkok, it's a very popular day trip destination for tours. Lots of companies offer trips but it's so easy to get to, I would simply go on your own by train.
Catch a performance at Patravadi – This theater which lies on the river was founded by a Thai actress. It is a trendy place that offers a variety of performances: acrobatics, drumming shows, theater, and dance.
Enjoy Bangkok's famous nightlife scene – There are lots of drinking areas with countless street bars (Khao San Road and Silom are the most popular nightlife spots in the city). You'll never have a problem finding good bars and clubs to go to. Some of my favorite bars are Brick Bar, Smalls, and Whisgars.
Eat in Chinatown – First, wander among the lilies, birds of paradise, and orchids at Pak Klong Talad, the flower market at the north end of Chinatown. From there, grab a bite to eat at one of the main enticing food stalls.
Watch a Puppet Show – A huge aspect of Thai drama revolves around puppetry. Two types are common – Nang (shadow puppets) and Hun (marionettes). If you're lucky, you can see a show at an outdoor festival; otherwise, head to the Thai Puppet Theatre.
Spend a hip night out in Thong Lo – In this trend-conscious neighborhood, you'll find the city's top-end dining and nightlife, including many Western jazz bars and beer gardens. It's very popular with Bangkok's young middle and upper classes (the see-and-be-seen crowd).end a trendy night out
Boat down the Bangkok canals – Known as the "Venice of the East", Bangkok used to be full of waterways and canals. While not as many of those exist as there used to, you can still see many of the old bridges and stilt houses crowding the waterways. You can still cruise along the Chao Phraya River to see some of what remains, usually for only about 100 THB. The Klhongs of Thonburi  offers picturesque views of the old wooden houses and colorful pots of flowers.
Take in the splendor of Vimanmek Mansion – Built in the year 1900 by HM King Rama V,  this royal palace is also the largest teakwood mansion in the world. It now houses the Thai National Heritage museum, and also boasts beautiful gardens and canals to explore on the estate. It is now full of collections of antiques, old photographs, porcelain, and memorabilia from the King's reign. Admission is 100 THB.
Wander through the Rot Fai Night Market – Rot Fai Market (or Train Market) is an authentic open-air bazaar selling an array of vintage collectibles and memorabilia, from antique furniture to hippy fashion and Mao kitsch. The Train Night Market is absolutely one of the coolest markets in Bangkok. Open at night on Thursday through Sunday.
Head to the Dusit Zoo – Thailand's first zoo, built over 60 years ago, sits in the middle of Bangkok's administrative center and is surrounded by important buildings like the Throne Hall, Parliament, and the Chitralada Palace. It is a fully functional park, with an animal hospital, education center, and museum. There is also a sightseeing train that takes you around the zoo to see the more than 1,600 animals there. Keep an eye out for the albino barking deer and the white Bengal tigers. Admission is 100 THB.