Mayon Volcano, Albay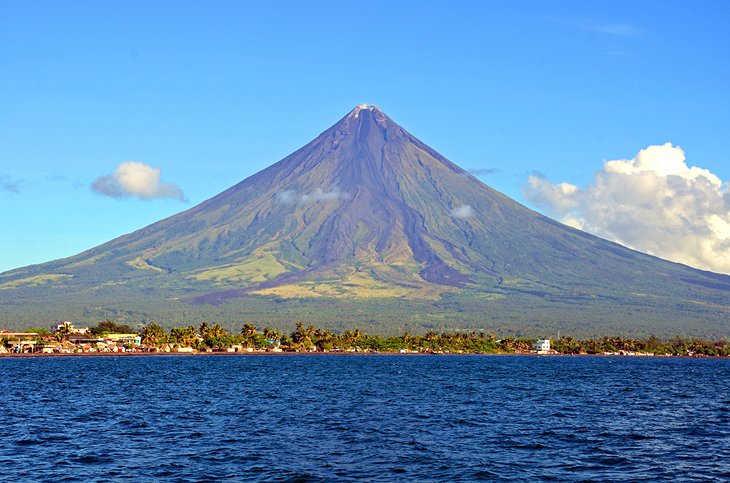 The Mayon Volcano in the Albay province on Luzon Island is a must-see in the Philippines. It is an active stratovolcano with an elevation of more than 2,400 meters. The Mayon volcano has a perfect cone peak. Most visitors will want to enjoy the volcano by viewing it from the ground. Nature trails in the national park grounds surround the volcano, where you can also see wildlife like parakeets and other birds. Extreme hikers can apply for a permit to climb the volcano, but it is a difficult trek through forest, and dangerous gases are emitted near the peak, so caution is advised. The ideal time to visit is March through May, outside of the rainy season. You can take an organized trip from Manila to get here.
5 Chocolate Hills, Bohol
Rizal Park
Rizal Park or Luneta Park is the most famous landmark in Manila. The country's national hero and genius, Jose Rizal's monument stands in the facade of the park across the Roxas Boulevard and the Manila Bay. Many tourists and locals go there every day to have some photos taken in the famous statue and park. No entrance fee in the park so chillax.
Fort Santiago and Intramuros

One of my favorite places to visit in Manila is Fort Santiago, also part of the famous Intramuros. If you love visiting historical places and seeing vintage stuffs, you'll surely enjoy this place. Fort Santiago was where Jose Rizal spent his last days before his execution. He also had written some of his writings here. Seeing Fort Santiago mirrors the life and culture of the country during the Spanish times and the sixteenth century. You'll see here some Rizal's anecdotes, novels, attire, the room where he was a prisoner, the room where he used to write, his table, his pens, lamps, and yeah I remember seeing a part of Rizal's spinal bone preserved in the museum there. I think the entrance fee in Fort Santiago and Intramuros cost around 75 pesos. There are also Kalesa or carriage around the area in case you want to tour around riding it. Only 250 for 30 minutes I think.
Mall of Asia
Manila Ocean Park
This one is one of the most favorite hotspots in the metro. The Manila Ocean Park shows amazing aquatic and marine life in awesome facilities and high technology tools to let children and marine lovers experience the best trip and see other aquatic species. Some activities are also available for visitors – dive and swim with the sharks, fishes and cute adorable creatures into the deep…
Manila Bay or Baywalk
In line with the Manila Ocean Park and the US embassy, is the Manila Bay, usually called as Baywalk, too. Perfect venue to chill and watch the ships, yachts and the sunset.