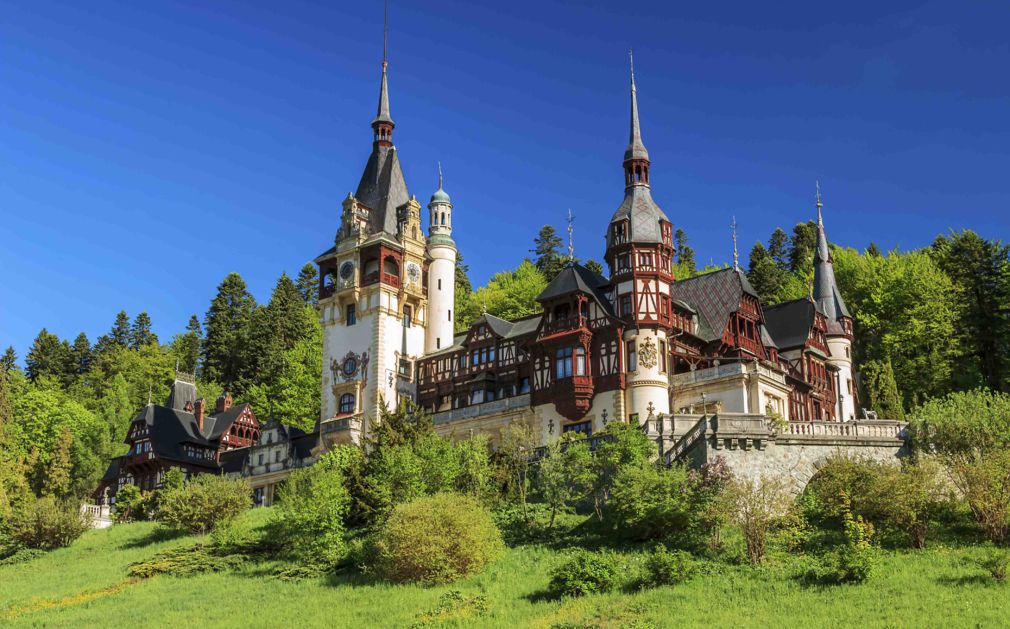 Main Attractions in Romania
Romania is located in central Europe and is known for its beautiful and famed Transylvania region.  Romania has a cherished past, often associated with Dracula legend.  Its a small country, surrounded by the Carpathian Mountains which attract tourists looking for excellent climbing, trekking, skiing adventures. Romania is a country packed with well-preserved history. The culture, iconic landmarks and beautiful landscapes make it a fantastic travel destination.
Transylvania
Transylvania, the part of Romania associated with fictional vicious vampires and a real historical figure of Vlad the Impaler, is in fact a charming part of Romania with no traces of its bloody past. Visitors can enjoy lively medieval towns, stunning castles, well preserved fortified churches, medieval fortresses as well as natural attractions such as ice caves or volcanic lakes.
Time Zone: Seven hours ahead of U.S. Eastern Standard Time (GMT + 2)
Area: 92,043 sq. miles (238,391 sq. km) – a little larger than the state of Minnesota
Population: 19,334,000 (October 2016)
Largest city: Bucharest (1,883,400) – Capital
Main Ethnic Groups:
Romanian 84%, Hungarian 6.1%, Gipsy 3.1%, German 0.2%, Ukrainian 0.2%
Religions:
Christian Orthodox 81%, Roman Catholic 4.3%, Reformed 3%, Greek-Catholic 0.7%, Unitarian 0.3%, Jewish, other.
Official Language: Romanian
Currency: Leu ( plural Lei — pronunciation "lay" — abbreviations: Lei or RON )
Climate: Temperate, four distinct seasons, similar to northeastern USA
So Lets explore the best places to visit in Romania:
Bucharest
Rasnov Fortress
Rasnov Fortress is a medieval citadel built in the 13th century. Râșnov Citadel is a historic monument and landmark in Romania. It is situated in Râşnov,  and located on a rocky hilltop. It was built as protection against invading Tartars. Rasnov Fortress has been recently restored and tourists today can visit the impressive remains. Time here was time well spent! Yes, this historic place is mainly in ruins, but there is enough to see here. The view from the citadel is impressive and there are souvenir vendors and a coffee/bar to offer drinks.
Biertan
Biertan is located in a long valley surrounded by hills and vineyards. The village was founded in 1283 and is dominated by Saint Mary's citadel and church. Biertan, a peaceful town just 30km from Sighisoara, is located in the south-eastern part of Transylvania. It is one of the oldest Saxon settlements in Transylvania. The first document mentioning Biertan dates back to 1224. Horse-drawn carts are still a part of daily life, and local residents gather to trade their wares in a cobbled village square

Biertan, Transylvania, Visit Romania by Katka
Matrimonial prison – Couples who wanted to divorce were forced to spend time together there to make sure they wished to end their marriage. They had to share a single room with only one bed, one chair and one set of tableware. If they reconciled, they could leave earlier, otherwise they stayed locked up for two weeks.
Sibiu
A couple hours north of Bucharest is Sibiu, situated on the Cibin River in Transylvania. Considered a cultural gem, the baroque squares and quaint cobblestone streets have a unique appeal. Voted the European Capital of Culture in 2007, Sibiu created the countries first library, pharmacy, and hospital. There's a large handful of "must visit places," but the top of the list includes the Brukenthal National Museum, the Gothic church with 6,002 pipes and a dizzying church tower you can climb, the tomb of Prince Mihnea the Bad, who was murdered in front of the church, and the ASTRA National Museum Complex. Sibiu has more festivals than any other city in Romania – not to mention plenty of theatre, opera, and exhibitions.
The Black Sea Coast
Stretching nearly 275 km from the Danube Delta to Bulgaria, Romania's Black Sea Coast is dotted with numerous towns and beach resorts for all budgets and tastes. With a busy port and a bunch of museums, shops, bars, and restaurants, Constanta – the getaway to the Romanian seaside, is an excellent base if you want to explore the area.